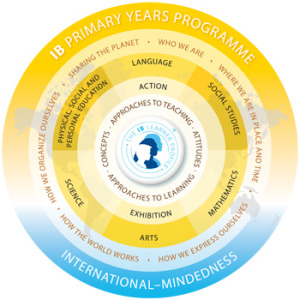 I-EP Primary School is an authorized IB World School that offers the IB Primary Years Programme (Grades 1-6). This programme offers our school a philosophy and curriculum framework which aims to combine the best research and practice from a range of national systems with the wealth of knowledge and experience in international schools.
What is the Primary Years Programme?
The IB Primary Years Programme, for students aged 3 to 12, focuses on the development of the whole child as an inquirer, both in the classroom and in the world outside. It is an international, transdisciplinary programme designed to foster the development of the whole child, not just in the classroom but also through other means of learning. The PYP focuses on the total growth of the developing child encompassing social, physical, emotional and cultural needs in addition to academic welfare.
At the heart of the PYP curriculum is 'Agency'. Agency is the power to take meaningful and intentional action, and acknowledges the rights and responsibilities of the individual, supporting voice, choice and ownership for everyone in the learning community. Through the PYP, students experience learning that is engaging, significant challenging and relevant that will develop their ability to take responsible actions and contribute to building a more peaceful world through intercultural understanding and respect.
The PYP encourage the development of the traits described in the IB learner profile. It describes the qualities IB students develop and display as they learn.
Find out more about the IB Learner profile here.
The Written Curriculum
KNOWLEDGE: What do we want our learners to know?
The most significant and distinctive feature of the IB Primary Years Programme is the six transdisciplinary themes.
These themes are about issues that have meaning for, and are important to, all of us. The programme offers a balance between learning about or through the subject areas, and learning beyond them. The six themes of global significance create a transdisciplinary framework that allows students to "step up" beyond the confines of learning within subject areas.
Who we are

Where we are in place and time

How we express ourselves

How the world works

How we organise ourselves

Sharing the planet
Through these themes, students gain knowledge in six principal domains:
Language (English and Chinese)

Mathematics

Science and technology

Personal, social and physical education

Social Studies

Arts
CONCEPTS: What do we want the learners to understand?
Central to the philosophy of the PYP is the principle that purposeful, structured inquiry is a powerful vehicle for learning that promotes meaning and understanding, and challenges students to engage with significant ideas. Hence in the PYP there is also a commitment to a concept-driven curriculum as a means of supporting that inquiry.
Key Concepts
· Form
· Function
· Causation
· Change
· Connection
· Perspective
· Responsibility
APPROACHES TO LEARNING: What do we want learners able to do?
Approaches to learning (ATL) are an integral part of an IB education and complement the learner profile, knowledge, conceptual understanding and inquiry. These skills are grounded in the belief that learning how to learn is fundamental to a student's education. Five categories of interrelated skills aim to support students of all ages to become self-regulated learners who know how to ask good questions, set effective goals and pursue their aspirations with the determination to achieve them. These skills also help to support students' sense of agency, encouraging them to see their learning as an active and dynamic process.
ATL Skills
· Thinking skills
· Research skills
· Communication skills
· Social skills
· Self-management skills
ACTION: How do we want learners to act?
Action is connected to agency, the learner profile and international-mindedness. Action is authentic, meaningful and mindful. It is student-initiated and can be individual and collective. It can happen at any time; it can be short or long term, revisited or ongoing. Action is supported by the learning community.
In the PYP, it is believed that education must extend beyond the intellectual to include not only socially responsible attitudes but also thoughtful and appropriate action. An explicit expectation of the PYP is that successful inquiry will lead to responsible action, initiated by the student as a result of the learning process. This action will extend the learner's learning, or it may have a wider social impact, and will clearly look different within each age range. PYP schools can and should meet the challenge of offering all learners the opportunity and the power to choose to act; to decide on their actions; and to reflect on these actions in order to make a difference in and to the world.
The Taught Curriculum
The six transdisciplinary themes help teachers to develop a comprehensive programme of inquiry with in-depth investigations into important ideas, identified by the teachers, and requiring a high level of involvement on the part of the students. These inquiries are substantial, in-depth and usually last for several weeks.
Inquiry in PYP
Inquiry, as the leading pedagogical approach of the Primary Years Programme (PYP) recognizes students as being actively involved in their own learning and as taking responsibility for that learning. PYP learning is approached with a spirit of inquiry. Drawing from the transdisciplinary themes and students' interests, inquiry is an authentic way for students to relate to, explore and understand the world around them.
Inquiry is purposeful and authentic. It incorporates problem solving and supports students in achieving personal and shared goals. Inquiry extends students' learning when the exploration of initial curiosity generates new questions and wonderings. By situating inquiry in meaningful contexts, connections are made between personal experiences to local and global opportunities and challenges.
Connecting passion with intention, the inquiry process builds capacity through student agency where voice, choice and ownership feature strongly. We have adopted Kath Murdoch's Inquiry Cycle throughout the Unit of Inquiry.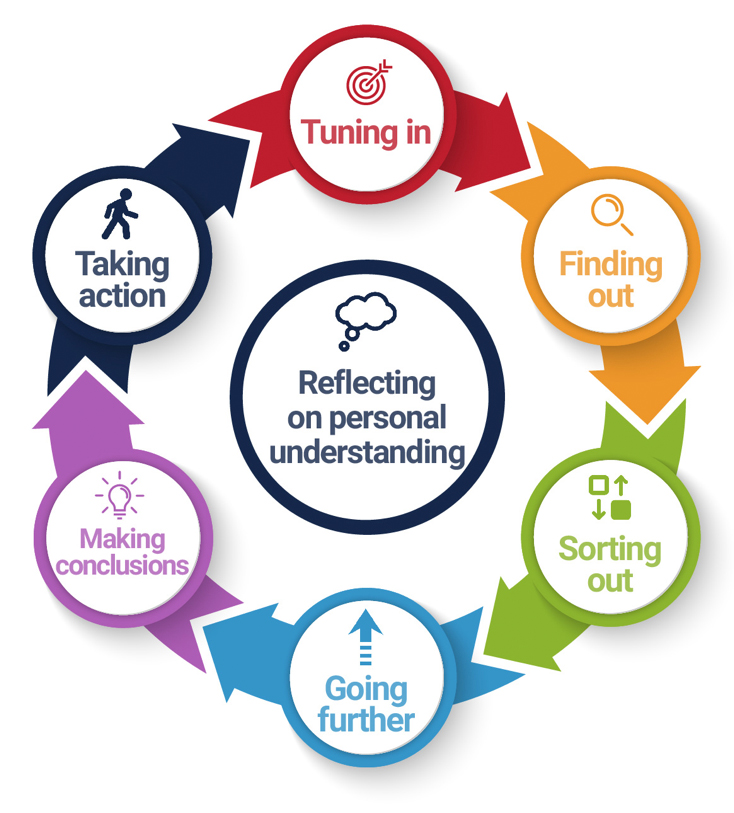 Kath Murdoch's Inquiry Cycle
The Assessed Curriculum
Assessment is an important part of each unit of inquiry as it both enhances learning and provides opportunities for students to reflect on what they know, understand and can do. The teacher's feedback to the students provides the guidance, the tools and the incentive for them to become more competent, more skillful and better at understanding how to learn.
Find out more about the PYP curriculum here.
The I-EP Primary Programme of Inquiry
This promises to be another exciting year in the Primary School. Please download a copy of our Programme of Inquiry to find out what's in store for all the year levels.
Programme of Inquiry 2020-21